The Sessions (2012) ****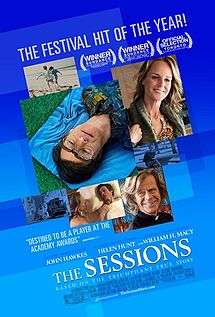 The Sessions join a distinguished group of films addressing various perspectives of a man trapped in a motionless body. These include, among others, the superb The Sea Inside and The Butterfly And The Diving Bell. What sets The Sessions apart, aside of addressing sex and disability, a rare topic all by itself, is that the main character, real-life poet Mark O'Brien, who had been without control of his body due to polio in childhood, is not struggling with the disability as do the heroes of most other films. He had already come up to terms with his conditions and learned to make the most out of it. His challenges are different and include a need to earn his manhood by losing his virginity, despite his condition and somewhat against his religious following.
The Sessions is an intriguing film that takes some time to grow on you. John Hawkes in the main role and Helen Hunt as his sex surrogate, are superb, but kudus go to all the other supporting cast members, led by William Macy of whom I can say that if he was to indeed be a priest, you may find me one day going to church... Ben Lewin who wrote the screenplay, inspired by an essay written by Mark O'brien himself, titled On Seeing a Sex Surrogate, directed this low-budget film, and manages to keep it feeling authentic while building towards an emotional yet unsappy ending.