The Muppets (2011) ***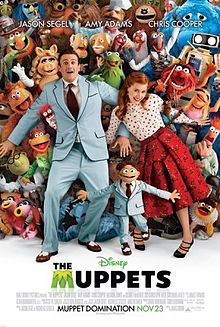 Admittedly I went to see The Muppets (escorting my kids) with great expectations. Though entertaining, there is a sad undertone to this film that left me feeling gloomy – not what one might expect of a Muppets movie. The plot is okay even if somewhat unsatisfying, but the Muppets themselves feel like a bunch of retired actors forced back on stage, and not liking it one bit. Yes – that is part of the plot, but where is the spark that made the Muppets come to life?
Kudos to Jason Segal, who wrote the script (with Nicholas Stoller), and stars in it, for his attempt at reviving one of the better shows of the 20th century, but unfortunately it might have been wiser to leave the old gang in retirement.