Young Adult (2011) **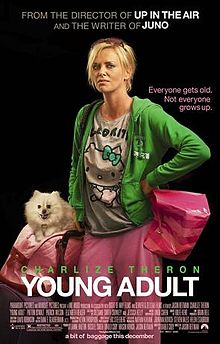 Young adult tells the story of a 37 year old Young Adult fiction ghost writer, who is herself still stuck in adolescence. On what seems to be a whim, she decides to go back to her small hometown, and win over her now happily married and new dad, high-school sweetheart. Charlize Theron in the leading role does an excellent job making us feel absolutely no sympathy for her character. Sitting through the full length of this film was torturous. I am puzzled as to how come director Jason Reitman and writer Diablo Cody, who previously did amazing work on Juno, would produce this boring piece of work. I can only hope their next one will be much better.
Aside of Theron, kudos go to Patton Oswalt who does exceptional work playing an adult who was badly bullied as a teen.