We Bought a Zoo (2011) ***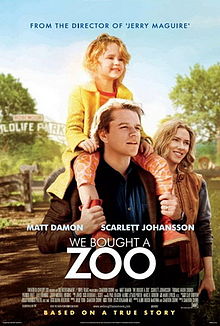 It's hard not to like We Bought a Zoo, a family film directed by Cameron Crowe and starring Matt Damon and Scarlett Johansson. The film is based on Benjamin Mee's true life story, of how he and his family bought the Dartmoor Zoological Park.
We Bought a Zoo is slightly over sweeten, and, at over two hours, it runs a little too long but manages to remain engaging. What this film lacks is courage to divert from a formulaic story. The very capable Damon and Johansson, could have been challenged to much more, resulting in a deeper and more touching story. Instead this film feels like they are just out for a stroll in the park.
Still, kids are likely to enjoy it and parents are likely not to yawn. That is much more than most other family films these days can take credit for.