Hope Springs (2012) **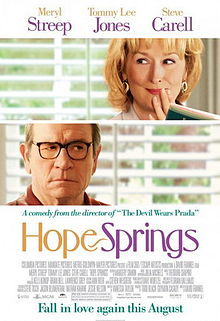 This film should be rated RW-50: recommended for women over 50. Guys beware.
Despite several funny moments and the immense pleasure of watching Meryl Streep and Tommy Lee Jones playing empty nesters whose love-life is long gone, Hope Springs is as empty as the relationship it portrays. The film fails in creating real sympathy for its main the characters: a disgruntled middle-aged middle-class accountant, and his wife, who's greatest fantasy is to have sex with her husband. It's really quite sad actually... The storyline is dull and absolutely risk-free. Even giants such as Streep and Jones cannot save it.
I wish I had more to write about it but all I can bluntly repeat is that it's a Chick Flick for ultra-mature audience...