Cedar Rapids (2011) ****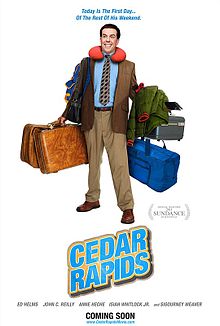 Who knew the insurance business can be so exciting?... Cedar Rapids is an indie comedy written by Phil Johnston and directed by Miguel Arteta, with a cast led by Ed Helms (Dr. Stu Price from The Hangover), including John Reilly, Anne Heche and Sigourney Weaver. It tells the story of a naive insurance agent, Tim Lippe (played by Ed Helms) who is sent to represent his company at a regional insurance agents conference. Lippe, who seemed to have never left his small town, is overwhelmed by the 'big city', and ultimately is shaken off his naïve convictions. The cast is convincing, and the humor, though fart-based on occasion, never slides too low and remains loyal to the storyline.
Think of Cedar Rapids as a low-key version of Something About Marry meets The Hangover – it may not be as hilarious but it is both entertaining and engaging.